Product Description
The Powersafe Reduction Kit is for use with a standard Set Screw Connector (120mm²). The reduction kit contains a series of 5 reducer sleeves that are used to reduce the Set Screw Connector (S120) cable bucket in the rear of the contact. A powerlock reduction kit will allow termination to power cable sized from 95mm² to 25mm². The reducer set also includes the M40S and M40SS bush to allow cable clamping ranges of 10mm² – 19mm².
The Powersafe reduction kit comes with:
Set Screw 95mm² Reduction Sleeve (R95)
Set Screw 70mm² Reduction Sleeve (R70)
Set Screw 50mm² Reduction Sleeve (R50)
Set Screw 35mm² Reduction Sleeve (R35)
Set Screw 25mm² Reduction Sleeve (R25)
M40S Bush
M40SS Bush
Brochures
See below for Phase 3 Connector's brochures. Each product range has it's own publication to inform customers and support distributor sales efforts.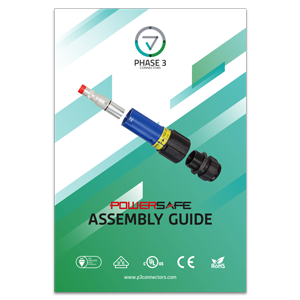 Powersafe Assembly Guide
Our Powersafe Assembly Guide covers the assembly aspect, as well as safety and technical information for our industrial power connectors.
2.08MB