Powersafe
Single Pole
Connector
Phase 3's Powersafe range are the highest rated, safest and finest quality single pole connectors as used by the power, events, military and cable assembly industries worldwide.
Powersafe single pole connectors are 100% manufactured and assembled in the UK by Phase 3. The plug's mating system is mechanically keyed and locked, meaning they cannot be mis-mated accidentally under load. Powersafe are the industry's safest high current powerlock type connectors. The UL Listed power connectors are rated up to 800 amps and are perfect to mate with the Powersafe Box.
Powersafe electrical connectors are the highest rated and safest, high current, low voltage industrial plug for events, power, military and utility industries.
View the Powersafe product video and feel free to contact us in regards to any queries or quotes for your project.
Configure Connectors
Contact Phase 3
NEW! Configure a Powersafe Connector
Our online product configuration allows you to input your specifications and receive a bespoke quote.
Configure Connectors
Single Pole Power Connector Performance Enhancements
The Powersafe connector design has brought performance enhancements:
'The highest quality connector in the industry…'
Increased Current Carrying Capacity (500A/800A)
Increased Short Circuit Ratings (35.5Ka)
Reduced Insertion Force
Improved Impact Resistance
Rubber Hand Grip for ease of coupling & added impact protection
Cable Strain Relief (25mm-300mm)
View Quality & Test Reports
Electrical Connector Safety Enhancements
The Powersafe cable connector design has brought safety enhancements.
'The safest CAM-lock connector alternative in the industry…'
Water & Dust Proof Ingress Protection Rating (IP67)
Finger-Proof Contacts
High-temperature resistant materials
Flame Retardant (UL94-VO)
Protection against electric shock (IP2X)
Rubber protective caps to protect connectors from damage
RoHS compliant
Features | Powersafe Powerlock Connectors
Hover over the hot-spots to explore the single pole connectors:
High Temperature Thermoplastic Insulator delivers high impact protection on the single pole connectors.
Rubber Hand Grip for ease of coupling and added impact protection. Gland Strain Relief on Cable 25mm – 300mm.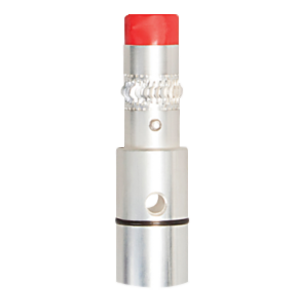 Finger-proof contacts provide safety from accidental electrical contact when uncouple and live.
Our contacts are machined from brass for 500A connectors or Copper for 800A connectors. As the Powersafe contact band has 29 transfer bridges, giving more surface contact, it is high rated than other manufacturers.
Source or Drain Panel mounts available, with either M12 nut or M12 bolt. Up to 800A.
Mechanically keyed and locked mechanism means the connector cannot be accidently disconnected under load, while the colour coding ensures no mis-mating of lines.