Product Description
Phase 3's Powersafe panel mount connectors are the highest rated, safest and finest quality Live 2 panel mounts as used by the power distribution, events, military and cable assembly industries worldwide. Powersafe Phase 2 Panel Mounts are electrical industrial sockets for generators, batteries, busbars, switchgear and power distribution boxes. The powerlock panel mounts are available for all three phases plus neutral and earth. Powersafe Sockets have the same mechanical locking system as their inline counterparts; secure coupling of plug and socket is achieved through an innovative mechanical locking system that disengages with a simple release key. The electrical industrial sockets are compatible with other manufacturer's powerlock panel mount connectors.
Connections are secured with an M12 threaded post termination to a standard cable lug. The industrial sockets are rated either 500 amp (T5) or 800 amp (T8). The standard connector is mounted to a panel through 4 fixing holes on the flange, panel cut-out drawing details are available on the Technical Drawings tab. As an alternative, flange holes can be fitted with M6 threaded inserts for either front or rear fixing.
500A sockets are manufactured with brass with silver plating (400 amp – 500 amp)
800A sockets are manufactured using copper with silver plating (660 amp – 800 amp)
Buy fully assembled with: gasket, M12 threaded post termination, M12 nut and spring washer.
Available in Live Wire 2 wire colour coding as yellow, white, orange, red and black.
Panel Mount Drain Connectors (SPD)
Powersafe panel drain devices mate with Powersafe L2 Source Plugs. Phase 3's powerlock drain connectors are supplied fully assembled with a female contact and male thermoplastic insulator.
800A Part Numbers (EU): SPD-L2-BK-T8
500A Part Numbers (EU): SPD-L2-BK-T5
Panel Mount Source Connectors (SPS)
Powersafe panel source devices mate with Powersafe L2 Drain Plugs. Phase 3's powerlock source connectors are supplied fully assembled with a male contact and female thermoplastic insulator.
800A Part Numbers (EU): SPS-L2-BK-T8
500A Part Numbers (EU): SPS-L2-BK-T5
Safety & Performance Features
Mechanically Keyed to eliminate the possibility of cross mating
Secondary Locking prevent unintentional uncoupling under load
Finger-proof protection against electric shock IP2X
Waterproof & Dustproof to IP67 rated
Colour Coded for easy identification of three phase electricity
Innovative contact band allows higher rating (400A > 500A, 660A > 800A)
Contact band cannot come out
High Impact Insulator (no glass used & flame retardant)
Field Installation no special tools required
Gasket allows water tight securing to panel distribution boards
To Configure Your Connector:
Select Gender
Select Regional Colours
Select Termination (Amps)
Indicate UL Requirements
Need Help? View our Powersafe Configuration Guide.
Powersafe power distribution devices are the perfect safe alternative to Camlock Connectors. All our devices are fully compatible with Litton VEAM, 400amp and 660amp Powerlock panel mounts, ITT Cannon and other manufacturers.
Brochures
See below for Phase 3 Connector's brochures. Each product range has it's own publication to inform customers and support distributor sales efforts.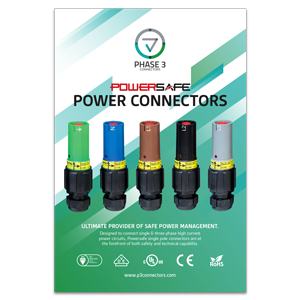 Powersafe Brochure
The Phase 3 Powersafe Brochure contains everything you need to know about our single pole connectors from covering safety to technical capability.
1.57MB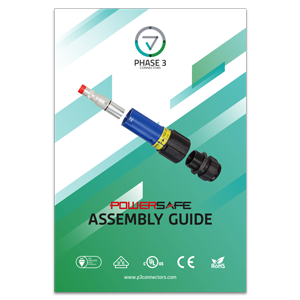 Powersafe Assembly Guide
Our Powersafe Assembly Guide covers the assembly aspect, as well as safety and technical information for our industrial power connectors.
2.08MB