Product Description
Phase 3's Powersafe single pole connectors are the highest rated, safest and finest quality L1 powerlock type plug available. Powersafe are used by the power distribution, events, military and cable assembly industries worldwide. Powersafe Line 1 inline connectors easily terminate to copper cable using either industry standard crimp tools or set-screw contacts. Secure coupling of the three phase plugs and sockets is achieved through an innovative mechanical locking system that disengages with a simple release key.
Benefits of Powersafe Inline Connectors
Mechanically Keyed to eliminate the possibility of cross mating
Secondary Locking prevent unintentional uncoupling under load
Finger-proof protection against electric shock IP2X
Waterproof & Dustproof to IP67 rated
Colour Coded for easy identification
Innovative contact band allows higher rating (400A > 500A, 660A > 800A)
Contact band cannot come out
High Impact Insulator (no glass used & flame retardant)
Field Installation no special tools required
Integral Cable Strain Relief
Daisy Chain Capability facilitates flexible stock cable lengths
Large Cable Range 25mm² – 300mm²
Ampage & Cable Size Explained
Powersafe Connectors are available in either source or drain format as 800A or 500A. Device ampage is determined by cable size (termination). 300mm2-240mm2 power cable requires 800A plugs, 185mm2 – 25mm2 power cable is supplied with 500A plugs.
Please note, if you require Powersafe for power cable less than Set Screw 120mm2, i.e. 95mm2, 70mm2, 50mm2, 35mm2, 25mm2, you must purchase a reducer kit separately.
Highest Quality L1 Powerlock Connectors
All Phase 3's industrial, heavy duty plugs are designed, assembled and manufactured in the UK with materials sourced from Europe and America. Our conductive metals are always 99.9% pure materials, as we deliver the highest quality product in the industry. Our Compliance Team have full control of the supply chain; all our main suppliers are ISO accredited businesses and products are UL, VDE and CE certified. Powersafe powerlock L1 connectors come with a hand grip as standard to assure protection of the insulator and improve usability. We offer customisation of the hand grip with your brand's colours and logo depending on quantities ordered.
Powersafe three phase electrical devices are the perfect safe alternative to Camlock Connectors. All our source and drain electrical devices are fully compatible with Litton VEAM, 400amp and 660amp Powerlock, ITT Cannon and other manufacturers.
Lead Times
We ship 90% of our standard products (C120, C185, C240, S120) the next day via FedEx. However, non-standard product such as (C35, C50, C70, C95 etc) may require longer lead times. In the case of non-standard item, when your shipment is ready we will send on next day delivery. If your shipment will not be ready within 5 working days, we will contact you with an exact lead time.
To Configure Your Connector:
Select Gender (Source/Drain)
Select Termination
Select Clamping Range
Indicate UL Requirements
Select Region Wiring Colours
Need Help? View our Powersafe Configuration Guide.
Technical Drawings
See below for the technical drawings of this product, here you'll find precise dimensions of the item.
Source Connector
---
Drain Connector
---
Brochures
See below for Phase 3 Connector's brochures. Each product range has it's own publication to inform customers and support distributor sales efforts.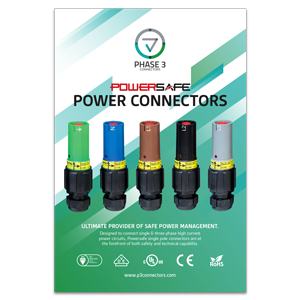 Powersafe Brochure
The Phase 3 Powersafe Brochure contains everything you need to know about our single pole connectors from covering safety to technical capability.
1.57MB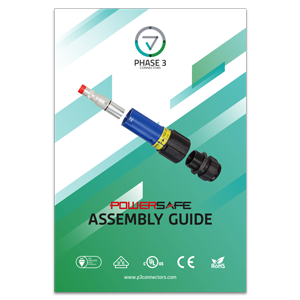 Powersafe Assembly Guide
Our Powersafe Assembly Guide covers the assembly aspect, as well as safety and technical information for our industrial power connectors.
2.08MB